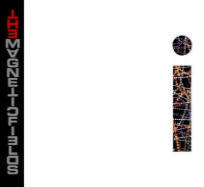 Track List
I Die
I Don't Believe You
I Don't Really Love You Anymore
I Looked All Over Town
I Thought You Were My Boyfriend
I Was Born
I Wish I Had An Evil Twin
If There's Such A Thing As Love
I'm Tongue-Tied
In An Operetta
Infinitely Late At Night
Irma
Is This What They Used To Call Love
It's Only Time
You probably (I hope) noticed that all the songs start with with the letter "I," because, shockingly, that is the theme of the whole album. Even Stephin Merritt's lyrics focus more on first-person narrative stories than they did previously, in which the lyrics focused on gender reversal or narrator detachment. This shift created a slower, more emotional album. Although the slower tempos often matched the deep emotions, I found it would drag on too long and cause my mood to shift from chill to just plain bored.
Since I had previously listened to
Magnetic Fields
' older album, "69 Love Songs," a triple cd monstrosity that lived up to its name, because it
literally
contained 69 Love songs. Although, I greatly enjoyed the majority of the 69 songs, my attention span didn't enjoy it as much. So, when I saw that "I" only has 14 songs, I, along with my attention span, were filled with utter delighted. In comparison to "69 Love Songs," this album also moves much more smoothly from the mood of one song to the mood of the next song, adding to my chill factor when listening to this album.
The big difference in this album is that Merrit messed with the usual tradition of studio wizardry creating synthpop. Though, songs like "I Thought You Were My Boyfriend" still echo of the synthesizer's dominance, I found that, in general, this album has much warmer tone to it. Mainly the result of the unfamiliar acoustic sounds of the cello, guitar, banjo, harpsichord, drums working in juxtaposition to the electronic tones in bedded throughout, which ironically creates an enjoyable balance.
Song wise, I believe the four best songs are "I thought you were my boyfriend," "I Die," "I don't Love You Anymore," and "I Don't Believe You." As I said before, all of the albums tracks, except "I Thought You Were My Boyfriend," were much slower and morose than usual. What does this mean? Don't listen to this album if you are about to go to a party. Use it as an album to chillax too. Although the turtle-tempo in songs like "I'm tounge-tied," fits the sad mood of the lyrics, by the time the slow songs like "Is This What They Used To Call Love?" rolls around, its hard to get interested or care about them.
The other big issue that I had with this album was that I found the lyrics a bit disappointing. Despite their catchy nature and occasional simplistic double-entendre, there is no complexity behind them. No hidden meanings or messages are left to the listener to ponder, they are solely meant to be taken at face value. And what fun is an album if you can't backtrack at least one song to hear and misinterpret it as saying Satan?
Overall, I would say that the Lo-Fi style from
69 Love Songs
is a bit more appealing; for in
I
Merritt overloads the song with too many instruments, which proves quite unpleasant at times. Although, all the instruments harmonize perfectly in some of the winning songs, they have the adverse effect of boring the lisener in to a comatose state in some songs.
Rating: 3.2/5