Metric
Mainstream EP (1998)
Songs:05-Length:00:21-Size:36mg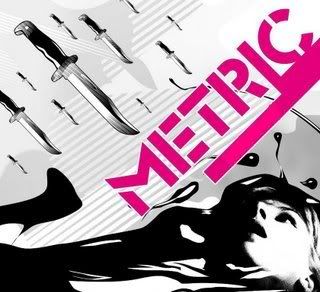 Okay, so I have a bunch of Metric on my computer and I thought I'd start with this album.
The first song is
Butcher (3:24)
. My initial reaction was that it was slow-paced, lacking in energy, and boring. But then, up on my second listen I realized I was right.
Moving on to
The People (4:54)
, I was continued to be bored out of my mind and uninterested. I kept hoping that it would kick-up sometime soon. Then, (lucky for me) in the
next song
The Battlecry (5:29)
I was blessed with a song so slow that it actually started to give me a headache and I had to take tylenol.
In the track
The Mandate (3:45)
The singer sounds like she is on heroin. I want to punch my computer so it will be over faster.
The Lifestyle (4:00)
is the last song on the EP and is repetative but with a nice beat to it. It sounds like one of AIR's crappier songs mixed with one of the songs from this terrible album. Yet it's the best song on it.
My Album Overview:
I'm never listening to this again, and thank the lord for that. Iv'e never heard less energetic singing in my life! I seriously think the singer did this album on tranquilizers.
1/20