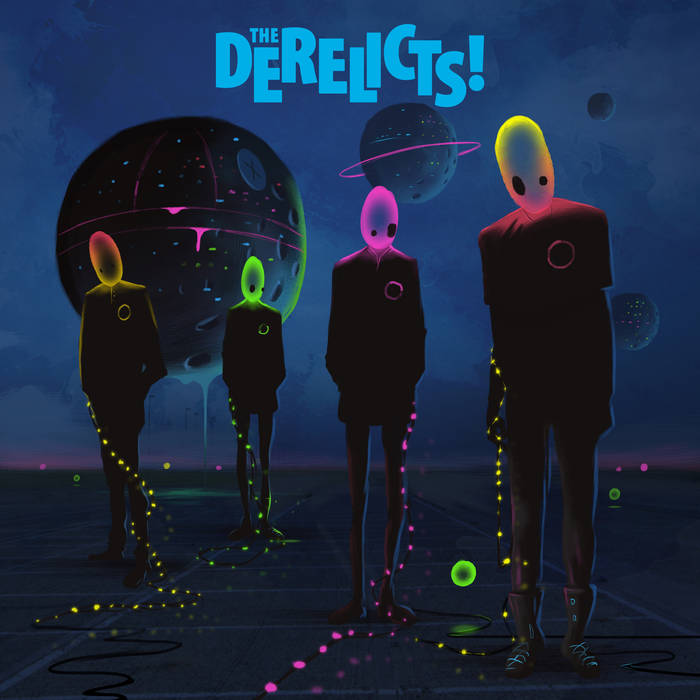 The Derelicts are a funky indie band from Kochi, India. This, their debut EP release (2018), is a four song collection of funky, post-punk disco songs about introspection, living in the moment, bad sex in the age of the internet, the degradation of meaning, and maintaining spiritual (not religious) face. It is music with a message and a purpose, all of which is explored in greater detail on their Bandcamp page.
The musical devices borrowed from the various aforementioned subgenres help to establish the emotional and thematic complexity of the lyrics and the band's pilosophy. For example, "Happy Sad" and "Introspect" contains James Chance/Gang of Four/Arto Lindsay esque funk guitar rhythms and riffs played a little more straight and a little more approachable so as to counteract the often bitter cynicism that characterized those artists as well as to capture the actual character of their own songs and the philosophy contained within. The inclusion of other influences (synth pop, new wave, XTC, disco) are also used in a similar fashion. The rollicking disco bass playing and energetic rythm section maintain a steady pace. There are moments where the band gets creative (like the instrumental sections in "Introspection") and the instruments are all fairly equal in the mix. The use of synths on "Jennifer" provide a musical juxtaposition of the lyrics (which are about the pitfalls of social media-particularly where romantic relationships are concerned) to the music which has historically (at least occasionally) been associated with cheesy sex songs (think "Obsession" by Animotion).
They are all good musicians and the songs are decent. The jumble of influences never seems forced or haphazard and clearly reflects the mixture of intentions they have as artists. Though I don't know, their influences seem mostly English and American.

Tracks:
1) Happy Sad
2) Introspect
3) Jennifer
4) In the Air
Rating: 4/5