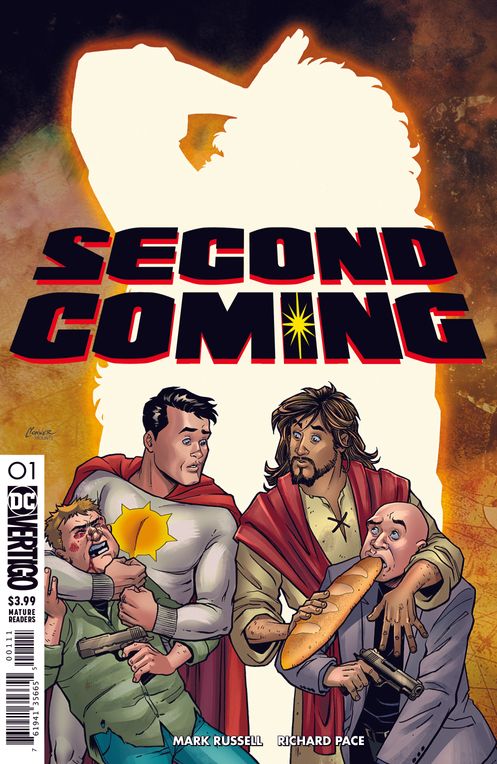 Quote:
Via DC Comics:

"Witness the return of Jesus Christ, as He is sent on a most holy mission by God to learn what it takes to be the true messiah of mankind by becoming roommates with the world's favorite savior: the all-powerful super hero Sun-Man, the Last Son of Krispex! But when Christ returns to Earth, he's shocked to discover what has become of his gospel—and now, he aims to set the record straight."
Quote:
Via writer Mark Russell:

"An all-powerful superhero, named Sun-Man, has to share a two bedroom apartment with Jesus Christ. The conceit is that God was so upset with Jesus' performance the first time he came to Earth, since he was arrested so soon and crucified shortly after, that he has kept him locked up since then.


God then sees this superhero on Earth a few thousand years later and says 'that's what I wanted for you!' He sends Jesus down to learn from this superhero, and they end up learning from each other. They learn the limitations of each other's approach to the world and its problems.


Sun-Man has to deal with things like his grandmother succumbing to dementia or that he can't adopt, because he's technically not a human being, and his wife wants a baby. These are the sorts of problems that superpowers are utterly helpless against. Jesus brings this very different view on how power can be used.


We need to rethink the ways to get the human race to play nice with itself because the ways we've come up with thus far, bribery and revenge, haven't solved anything. We've been nailing criminals to crosses, in one way or another, for two thousand years and we still get more criminals. It solves nothing.


He goes by a megachurch and they have a billboard of this Tom Brady-looking Jesus Christ throwing a football and he doesn't even recognize himself, which is a metaphor for him not recognizing what's been done with the religion that bears his name.


God was so upset with the fact that he got crucified the last time, that he wouldn't even let him look through the celestial keyhole at Earth to keep up. He still gets to talk to people when they come to Heaven, so he has a rough idea of what's going on down there. He doesn't know how sideways things have gone until he's come down to Earth and sees it for himself."
DC Comics'
"Second Coming"
portrays Jesus Christ as an out-of-touch former savior who is cast out of heaven and sent to Earth because God the Father felt that Christ messed up his first visit with mankind.
It will feature Jesus living in an apartment with a superhero named
Sun-Man
, described as
"the varsity quarterback son that God never had."

It's slated for 6 issues and is set to be released on March 6th. They
TOTALLY
missed the mark by not scheduling the release on 3/16 LOL.
Art by
:
Richard Pace
Cover by
:
Amanda Conner
Variant cover by
:
Tom Fowler
Written by
:
Mark Russell