One word of warning – or caution, let's say – before we get under way. Unlike many of the artistes featured in The Great Discography Project in my main journal, many of whom I really don't care too much about, these artistes all matter to me. In my main journal I asked for suggestions, which I was happy to take and will certainly review, but many of those suggestions are for me to listen to bands I don't really have too much interest in hearing, so the reviews have been, shall we say, shorter than normal? Here though, I intend to mostly revert to my "old" style of reviewing, ie going deeper into the album than probably most people would prefer, but as the likelihood is that a very small percentage of you are even reading this, and that the few who are may share my interest in these artistes, I make no apologies for that.
With all that in mind, the band I wish to kick this off with are these guys: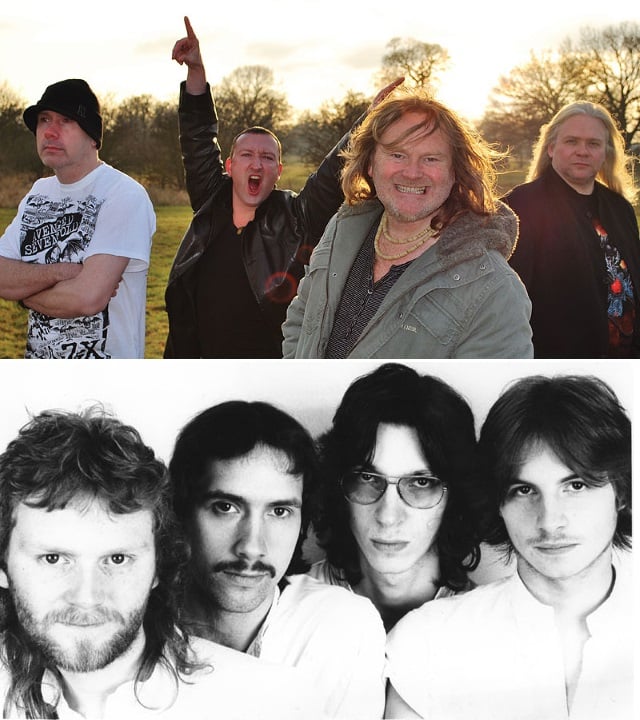 When I first started getting into prog, particularly neo-prog, I would hear four bands mentioned in the one breath: Marillion, IQ, Pallas and Pendragon. Now whereas I became, as everyone knows, a huge fan of Marillion, I tried to get into IQ and failed (they will shortly be the subject of another feature of "Why Can't I Get Into...?"), loved Pallas's
Arrive Alive
but listened to none of their other albums, quite frankly I ignored Pendragon. It was only when I heard their 2005 release,
Believe
, that I realised what a fool I had been, as the album just blew me away. Still unwilling or unable to listen to albums purely for pleasure – I was reviewing so much that I couldn't take the time out, so if they weren't for review I had no chance to listen to them – and having downloaded their discography, I decided to load it into a shuffle playlist, and over the last maybe two years this is how I have come to know a lot, perhaps most of Pendragon's music. But until very recently, when I experienced their latest album, I had still not listened to one full album through, bar the above.
So it seems appropriate to start this new project off by doing just that. And as ever, we begin at the best place to begin, the beginning.
Album title:
The Jewel
Artiste:
Pendragon
Year:
1985
Label:
Decca
Producer:
Scott English
Chronological position:
Debut album
Notes:
Clive Nolan, who would become a permanent member of this band and also Arena, among others, only plays on the two bonus tracks included here at the end.
Lineup:
Nick Barrett – Vocals, Guitar
Peter Gee: Bass
Rik Carter: Keyboards
Nigel Harris: Drums
Bonus tracks (if any):
"Fly high fall far/Victims of life/Insomnia/Armageddon"
It's a bouncy start as we kick off with "Higher circles", the keys of Rik Carter meshing with the measured percussion of Nigel Harris before the soon-to-be unmistakable voice of Nick Barrett comes in. It kind of reminds me in tempo terms of It Bites's "Calling all the heroes", and in fairness it's a little weak as an opener. It's also not very long, just over three minutes as we move on to the equally brief "The pleasure of hope", with much more of a punch and a sort of seventies Genesis feel to the keyboards. Carter would in fact leave after this album, to be replaced by Clive Nolan. This song immediately has more about it, I can't quite put my finger on it, but now we're listening to a band who are going to go places and make their mark in progressive rock as it began to enjoy a resurgence in the early eighties. Barrett's guitar comes more upfront and there's definitely teeth in this tune with some reasonably extended instrumentals, given the brevity of the song itself.
From here, the song lengths start to reflect more what you would expect from a prog band. The appropriately-titled "Leviathan" reminds me in places of Pallas's "Queen of the deep", some nice Hammond going on there but again it's the guitar that's mostly carrying the song. Even with Nolan on board, this would turn out to be something of a trademark with Pendragon: where other prog, especially neo-prog bands tend to fall back on the extended keyboard solo too often, Pendragon use Barrett's guitar to its max, which is not to say there are not keyboard solos – of course there are, and Nolan is a keyboard wizard – but the band doesn't rely almost solely on the keys. Of course, a band is only as good, really, as its vocalist (if they're not an instrumental band of course) and Barrett delivers on all fronts. Though the production is a little weak here he will come into his own on later albums. Nice example of the kind of thing he was and is capable of with a sweet little introspective solo halfway through, sort of acoustic. The song itself is pretty uptempo and powerful, with some great piano runs from Carter.
The first real epic comes in "Alaska", which runs for just shy of nine minutes and opens on a lovely soft guitar passage as Carter joins Barrett on some humming synth. The song itself is broken into two parts, the first being titled "At home with the Earth" and the second "Snowfall", but I can't see where the break between the two is. It starts very laidback but powerful, not what I'd call a ballad but certainly not a rocker. I'm going to assume that it's here, after about five and a half minutes and a really nice solo that part two comes in and it speeds up on Carter's jumping synth, Harris's percussion leaping after him and in a few short moment the frets are burning too as Barrett joins in to complete a really powerful instrumental close out. Kind of odd that the second part should be called "Snowfall": I would have expected that to be much softer, maybe piano or gentle acoustic guitar, but there you go. "Circus" opens on some really nice reflective guitar with percussion sort of sidling in, and I hear elements here of tracks that would surface twenty years later on
Believe
.
Super extended instrumental section around the midpoint, and while I have before, and will continue to accuse certain bands of unnecessary showoff-manship, technical wankery, call it what you will, with Pendragon the instrumental breaks always seem to be an integral part of the song, never there just to satisfy any musician's particular ego. A sort of Beatles/ELO style takes the song in the fourth minute before it heads off on another instrumental voyage that takes the track up to the last minute, with a hint of Alan Parsons Project thrown in for good measure. Thought it was going to fade there at the end but they pulled it out at the last moment. "Oh divineo" again rides on a sweet guitar line from Barrett which takes it more than a third of the way into the song before Carter's piano takes over and the vocal begins. Nice sort of ballady feel to it, though it does rock up later on , while "The black knight" has an expectedly medieval feel to it, with what I have to admit is a rather annoying guitar riff repeating through it, which is a pity as otherwise it's a really good song. There's a lot of power and passion in it, with a very Gilmouresque solo from Nick. This is also the first song to evidence what I'm afraid would become something of a recurring theme in Pendragon songs, where the same lines/verses are repeated twice or three times, leaving me somewhat puzzled, as they really can write good lyrics, but sometimes they seem to take the path of least resistance. This is not the best closer I've ever heard.

Track listing and ratings
Higher circles
The pleasure of hope
Leviathan
Alaska (i) At home with the Earth (ii) Snowfall
Circus
Oh divineo
The black night
Afterword:
The ratings for this album on Progarchives mark it overall as "Good, but not essential", and I would have to agree. If I didn't already know how good Pendragon were going to get as the years went on, I would probably write this off as a poor debut and be unlikely to explore any further. It's certainly not the strongest I've seen a prog band come out of the gate, and the use of "The black knight" as the closing track, and also the fact that it is way overstretched at nearly ten minutes, does not help. Thankfully, soon enough they would begin to hone their songcraft, and while Rik Carter is a competent keyboardist, it would only be with the addition of Clive Nolan that Pendragon would start to become one of the real powerhouses of prog rock. For now, it's a bit of a stuttering start – not terrible by any means, but no revelation. Not yet anyway.
Ratings
As I know these albums and artiste well (most of them anyway) I'm going to be a lot harsher with my ratings than I would normally be. Usually I'll give a rating of three as a basic medium score – not great, not terrible, basically ok or maybe even good – while ratings of four and five are reserved for efforts which are much better. This will still be the case, but whereas I would usually balk at awarding a two or even a one, now I'll be doing it this way:
1: Absolutely terrible. Avoid like the plague
2: Decent but could be a whole lot better. Potential to be realised.
3: A good album but fails to meet my high standards, or what I know or think this artiste can achieve
4: A very good album, well above average. Essential listening
5: Top marks, perfect quality, the pinnacle of this band's catalogue. Nothing bad I can say about it.
On that basis, all I can award
The Jewel
, which rather fails to live up to its grandiose title, is