Bright Eyes "Digital Ash In A Digital Urn"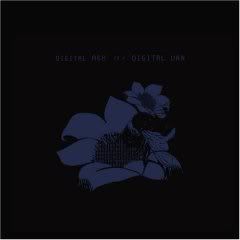 Label: Saddle Creek Records
Release Date: January 25, 2005
Genre: Electronic/Singer-Songwriter/Indie
Tracklist:
1. "Time Code" – 4:28
2. "Gold Mine Gutted" – 3:56
3. "Arc of Time" – 3:54
4. "Down in a Rabbit Hole" – 4:33
5. "Take It Easy (Love Nothing)" – 3:20
6. "Hit the Switch" – 4:47
7. "I Believe in Symmetry" – 5:24
8."Devil in the Details" – 4:06
9. "Ship in a Bottle" – 3:27
10. "Light Pollution" – 3:16
11. "Theme from Piñata" – 3:18
12. "Easy/Lucky/Free" – 5:31
The albums begins with "Time Code" which is probably the most atmospheric Bright Eyes song. Conors vocal work on this is pretty, particularly on "Shh don't talk, don't talk" this is mainly an intro to the album, so there isn't much to add to it.
Next is "Gold Mine Gutted" which is probably my favorite song on the album. I have a vague idea what the song is about, loving until death though one of the lovers dies first "we hurry to our deaths, but I lagged behind so you got ahead".
Followed by that is "Arc Of Time (Time Code)". The first verse I think is about planning to make a decision, but having to be ready to execute it when the time comes. The second verse is probably one of my favorite verses ever, it talks up going to heaven and living up there "you'll do the dance that was choreographed at the very dawn of time". The final lines, I think have something to do with cheating death.
Then we have "Down In A Rabbit Hole", i'm pretty sure this is a song about doing drugs, alot of the lyrics are crazy hard to figure out.
"Take It Easy (Love Nothing)" is the song i'm going to lose my virginity to lolz. The first part is totally about getting ready for sex, "you stood there so brave, you use to be shy each feature improved" etc, i'm recalling those lines off the top of my head I didn't want to ruin it. But the boy wakes up in the morning to find shes left and she wants to him to pretend it never happened, that nothing ever changed and in the last part is talking about her "If you stay too long inside my memory, I will will trap you in a song tied to a melody and I will keep you there so you can't bother me".
"Hit The Switch" is a multi-topic song that appears throughout the album, alot of this is obviously about personal experiences for Conor and the whole thing is tied together by a theme thats rather vague. The first verse is about getting drunk instead of opening up, the next part is about a switch that gets hit which I think ties into the last line or just means realization. The part after that is about visiting a friend, its pretty as hell but there isn't much explaining to do on it. The next part talks about considering quitting drinking, and describing puking and praying he doesn't die and the hypocrisy of it and the theme of it is revealed in the last part "there is no right way or wrong way you just have to live".
Followed by this is "I Believe In Symmetry". I can't listen to this song at all, you can read the lyrics and figure out all the metaphors and such.
Now we have "Devil In The Details". The first part is about not dwelling on the past and going for things as you see them, eating the cake and how once its done you can't change it. The second part is basically elaborating on that subject but on a more personal level, the final line is pure sex. "If I can make myself believe then the rest is easy".
After that is "Ship In A Bottle" the first part is about a desire to be something to someone and ends in the reality that you're nothing to them. The rest of the song is along that general theme, of longing for the impossible.
Next is "Light Pollution", this song is fantastic. It talks a John A. Hobson, well just read the lyrics its pretty straight-forward and an awesome read, listen to the song too.
Okay "Theme From Piñata" is actually my favorite, its a pretty song about love. It starts out kind of cheesy "I wish had a parachute because im falling fast for you", but it gets more poetic later. Probably the least electronic song on the album, followed by Light Pollution.
The final song is "Easy/Lucky/Free", another multi-topic song. I can't really break this down verse by verse because the subjects change and its more tied by imagery. Mostly he talks about the typical life of an american, death, faith and salvation, which is the common theme throughout the album.
All in all an amazing album, different from anything else hes done. I recommend this if you want to check out Bright Eyes because its very easy to get into. Its probably one of my favorites though its rather difficult to listen to for personal reasons as of late. The album fits together perfectly, from beginning to end.
Recommended Tracks:
Gold Mine Gutted, Easy/Lucky/Free, Light Pollution, Hit The Switch, Ship In A Bottle
Album Rating:
6/10
Download link:
hxxp://www.megaupload.com/?d=RO6K8T1C
I'll do a review on Four Winds over the weekend, or try to, I have some school to catch up on.