Because I am bored, and don't feel like reviewing another Bright Eye's album, the Wide Awake review should be up later tonight. I just have to finish Road To Joy.
Rilo Kiley "More Adventurous"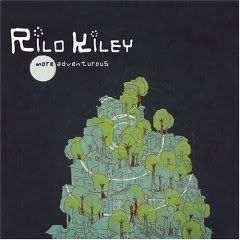 Label:
Brute/Beaute Records
Release Date:
August 17, 2004
Genre:
Indie Pop
Tracklist:
1. It's A Hit
2. Does He Love You?
3. Portions For Foxes
4. Ripchord
5. I Never
6. The Absence Of God
7. Accidental Deth
8. More Adventurous
9. Love And War (11/11/46)
10. A Man/Me/Then Jim
11. It Just Is
The album starts off with "Its A Hit" which criticizes various positions in a society, and is an upbeat song that isn't one of the better ones on the album, but its still up there.
Following that is "Does He Love You?" this is probably one of my favorite songs on the album, the lyrics are amazing. It begins out slow but begins to get heavier as the song goes on, Jenny's voice is perfect on this song, the ending gives me chills.
Next is "Portions For Foxes" which is one of the best tracks on the album, its about being in a relationship that you're aware isn't the best for you. The song is probably the most rock oriented one on the album.
After that is "Ripchord" which Jenny doesn't sing. Its an acoustic song that Blake Sennett does. The lyrics are basically about Elliott, "in the singing and the strumming, oh man I even saw it coming."
Following that is "I Never" which has sort of a country vibe to it, at least thats what I always get especially with the intro when Jenny goes "i'm only a woman." I think this has some of Jenny's best vocal work on it.
"The Absence of God" is the next track. This one of my favorite tracks recently, its one of the most solid albums on it lyrically. It basically takes a bunch of different views on life and the music is acoustic mainly, its pretty.
"Accidental Deth" follows that. This song is good, but it could be a bit more varied musically. The lyrics are about finding something, the meaning can probably vary rom person to person.
After that is "More Adventurous" this one is sort of folky. This song is basically about getting over a relationship and being more "more adventurous" after its over, and to just sort of let things happen and love when it comes along.
Now we have "Love And War (11/11/46)", this is probably the heaviest song on the album. Its probably got several meanings you could draw out, but to take it at face value the first half deals with a relationship the second half deals with loss.
Following that is "A Man/Me/Then Jim" which is mainly an acoustic song, it deals with different situations but basically the same common theme "the slow fade of love it might hit you from below it's your gradual descent into a life you never meant it's the slow fade of love."
The final track "It Just Is" is also about Elliott. The song basically has various messages which aren't hidden at all. "he wasn't our son he belonged to everyone", "it's such a loss for the good guys", and so on. Its a fitting track to end the album.
This is probably my favorite Rilo Kiley album i've heard, it has its weak points and strong points but all over its pretty solid and when it has its moments its very sick.
Recommended Tracks:
Does He Love You?, Portions For Foxes, A Man/Me/Then Jim, It Just Is, More Adventurous
Album Rating:
6/10