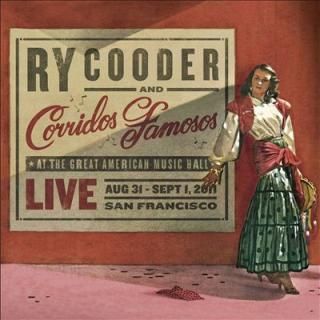 Ry Cooder is back with his first live album since 1988 entitled
Live at the Great American Music Hall, San Francisco Aug 31-Sept 1 2011
. Many of the songs on the album are rearranged versions of some of the folk and blues music covers from his earliest albums in the 70s.
For this album, Cooder recruited the 10 piece Mexican brass ensemble, La Banda Juvenil. Flaco Jiménez. Two of the selections,
Do-Re-Mi
and
Vigilante Man
are radically reworked versions of Woody Guthrie songs that have been in Cooder's repertoire of song for over 40 years. Also resurrected by new arrangements are some classic Cooder album selections like,
Crazy 'Bout An Automobile
,
Boomer's Story
, &
Dark End of the Street
. Sam the Sham's garage band classic
Wooly Bully
is also given a cover treatment by the band.
It a very satisfying trip back to Cooder's folk and blues roots from an era prior to his involvement with the world music scene.
Lord Tell Me Why
is the fourth cut on the new Cooder album.